Welcome to Ethik Hotels ! More than a directory of ecological hotels and eco-lodges in the world, it is also a committed project whose vocation is to make sustainable tourism accessible to all. Slow tourism, ecotourism, green tourism, discover what is behind these terms and enjoy travelling differently! Follow the guide, towards the world of Ethik Hotels.
A project committed to the planet and to people
Ethik Hotels is not a booking platform!
In addition, you will find many listed sustainable tourism professionals:
eco-friendly hotels, eco-lodges, gites and campsites in France, Europe and around the world;
local and committed travel agencies to organise adventures tailored to you and in line with your values!
But that's not all! As part of a responsible approach, preserving human exchanges is as important as protecting the planet and its ecosystems. This is why what makes Ethik Hotels special is the strong desire to re-establish human contact with short circuits. No more booking platforms that create one too many intermediaries between you and your host. On each hotel or travel agency page, you will find the website and contact details of the establishment to exchange directly and organise your trip as you wish!
Who is behind Ethik Hotels?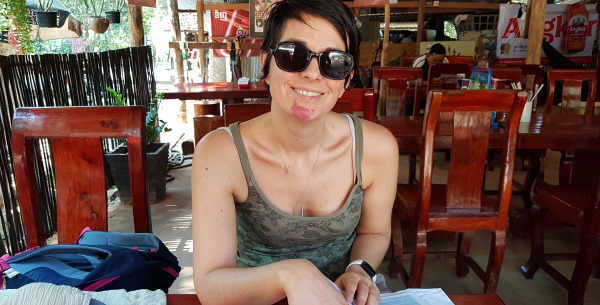 The idea of this platform was born on a beach in Cambodia, in the middle of January, under the South East Asian sun. Behind this project to make sustainable tourism accessible to all is my partner Clément and me, Anne. We are two travellers with a thirst for discovery who try to reduce our ecological impact in our daily lives and during our travels.
It is in this paradisiacal setting that we realised that our best travel memories are almost always linked to eco-responsible accommodation, run by committed hosts who share our values. But they are not so easy to find! How can you find an eco-friendly hotel through a big booking platform? You can't!
This is how the idea of Ethik Hotels was born! Whether you are like me and love to dive into the guides and limbo of travel blogs to organize your adventures or you don't want to take care of anything for your next holiday, I have thought of you! On our site you will find many sustainable tourism professionals for all budgets and all types of getaways. Our ambition is to help you live an ecological holiday that suits you and without any headaches!
A crazy project that is close to my heart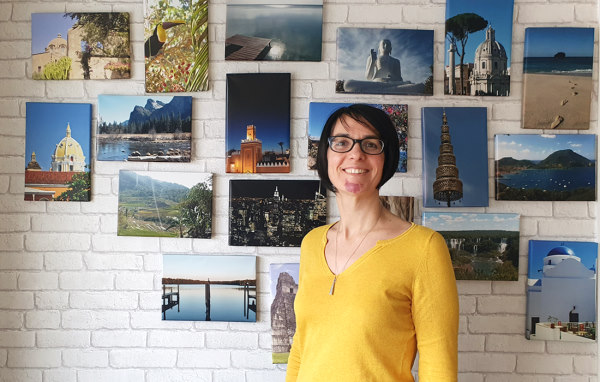 Ethik Hotels was launched on 4 March 2020. For me, it's much more than just a directory. It is also a way to give meaning to my professional life and to align my work with my values. I am fulfilled on a daily basis while doing my part to create a better world for tomorrow.
When the Covid crisis happened, I had my doubts. Isn't going into tourism during a global pandemic a completely crazy project? But I dared. Habits will change and more and more committed travellers like you will want to discover our beautiful planet without destroying it.
Ecological hotels, eco-lodges, eco-responsible accommodation and above all, human contact!
Because we don't have enough time in our lives to test or even know all these initiatives committed to ecological tourism, we are calling on you! The collaborative aspect is in the DNA of Ethik Hotels. It is in the richness of exchanges, sharing and community that we grow and improve, day after day, to participate in building the world of tomorrow.
This is how you, who are reading today, can become an Explor'Actor in your turn and help to make sustainable tourism accessible to all!
01
Was your last stay in an unlisted eco-responsible hotel a success? Tell us about it. We will be delighted to see if it can enrich the Ethik Hotels database!
02
Have you tested one of the establishments listed on our site? Share your opinion with the whole community on the accommodation page.
03
Have you spotted an accommodation that does not respect its commitments? Do not hesitate to inform us. We will contact the host to discuss it and update the database if necessary. In this way, you will fight against greenwashing!
Sustainable tourism at the heart of the approach
To be a man is precisely to be responsible. It is to feel, by laying your stone, that we help build the world.

Antoine de Saint-Exupéry
This is exactly how I feel about Ethik Hotels. I may not be contributing a stone, but with just one dust, added to all the others committed to a more sustainable way of life, we may be able to make a mountain.
To ensure that the eco-responsible accommodation listed on the site respects your values, we have put in place a set of easy-to-understand ecological and social criteria. Whether you are looking for an eco-lodge in the Baie de Somme, an unusual accommodation in Iceland or a hotel for a safari in Kenya, the pictograms are the same! Responsible tourism becomes child's play and you don't risk being caught in the greenwashing trap. Discover all our criteria below.
For us one of the most important criteria to appear on this list: water tank or filtered water available to fill travelers' reusable water bottles. This will help travelers refrain from buying single-use plastic water bottle.
"Local food network" : When the accommodation has its own vegetable garden or its own farm it gives a short and local distribution network. The hosts can therefore use their own products for cooking. It helps to create local jobs, it means less transportation, and gives tourists the opportunity to discover new flavors.
The hotel has banned any single-use plastic products. Any take-away containers must be made of ecologically friendly material or a system of deposit could be in place for tourists' day trip. For example, plastic straws should no longer be offered at the bar and in the restaurant, neither should mini soap/shampoo in the bedroom.
Waste recycling should be done in the hotel and if it is also in place in the bedrooms, it is even better. So we can keep our good habits
It seems important to us that tourist activities benefit the local economy. People who work in the hotel must be respected (although this is difficult to verify), and are part of the local community. The social aspect is forgotten if the hotel employs foreigners while it could give financial resources to local families.
Who cleans up his house every day? Not us anyway. Limiting the cleaning of rooms only at the request of customers seems like a good solution to limit the use of toxic household products. Another solution is to use environmentally friendly household products.
It is the same thing for cleaning sheets and towels. At home it is not every day either. Many hotels today display a note indicating that if you want to reuse your towel you can hang it on the towel rack. In fact it is not always respected. However a hotel that respects this choice also considerably reduces the amount of water used, as well as the amount of detergent released into the rivers.
Electricity and /or hot water is produced using renewable energy, whether with solar panels, wind turbines, geothermal or aerothermal heating systems, etc
---
These citeria was observed by the hosts during previous visits
Criterion not taken into account by the establishment at the time of our visit. But this may have changed. If it is the case please let us know.
We haven't been able to verify this criterion during our stay. Please let us know if you have more information
---
We tested for you: we, or some of our friends, have already visited this responsible accommodation.
You tested for us: one of our Internet users sent us this address to increase our references. (Thank you)
This is an address found on the internet, or that has been communicated to us, but which has not been verified yet.
Where to start on the site?
Have you already chosen your eco-responsible destination?
Discover all our ecological tourist accommodations and find the one that suits you. Unusual hotels, lodges in France and around the world, eco-responsible cottages, you will be spoilt for choice!
Do you prefer a turnkey trip?
Discover the responsible and local travel agencies around the world we work with!
Looking for inspiration for your next adventure?
Visit our travel and sustainable tourism blog!
For example, you can find :
So, are you ready to travel with us?