Far from the tourist areas of Madeira Island and its lively capital Funchal, welcome to a peaceful haven facing the Atlantic Ocean: the ZiaZen house. You will be warmly welcomed by your hosts, Cilene and Antoine. Yoga, hiking and contemplation of beautiful views are waiting for you for an ecological stay in all authenticity. Located in Porto Da Cruz near the north coast, the gîte a Madère is very well placed to discover the green volcanic island.
Why come to ZiaZen House ?
An invitation to slow life
Welcome to ZiaZen House, a place dedicated to calm and simplicity. It is the ideal place to disconnect from all your daily worries and experience the slow life in harmony with nature, with all the comfort of a hotel.
Stay in a room with a view of Eagle Peak and the ocean. Take advantage of this opportunity to wake up early and admire the splendid sunrises directly from your bed.
Perhaps you would prefer to wake up with a view of the vegetation along the Levada do Castelejo ? This irrigation canal is famous for the beautiful hiking trail that runs along it.
Meals full of flavor and color
For your breakfasts, picnics and dinners, enjoy the delicious cuisine prepared with love by Cilene. Enjoy fruits, vegetables and herbs directly from the garden. Bananas, guavas, avocados, tomatoes, zucchinis and many other vegetables will embellish your colorful and vitaminized plates.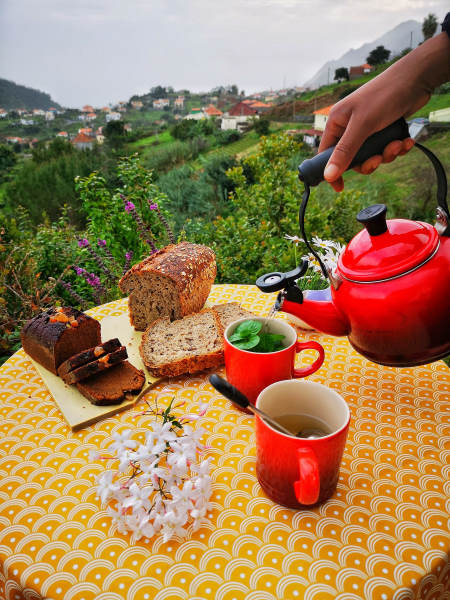 Activities to connect to yourself and to nature
Cilene offers yoga classes and massages to travelers who come to her lodging in Madeira.
Take advantage of this opportunity to try aerial yoga, a discipline that consists in doing movements while suspended in a light fabric. This relaxing practice helps to limit the tension on the vertebrae and joints.
To free yourself from all the stress accumulated in your daily life, treat yourself to an ayurvedic or shiatsu massage. We recommend that you enjoy it after a good day of hiking in the area.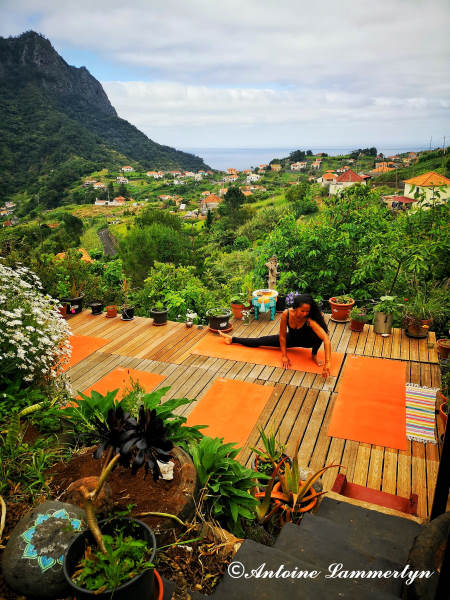 What to do around this lodging in Madeira ?
Hiking at will
Antoine is a mountain guide. He will be happy to share with you all his good tips for a successful and exotic hike on Madeira Island.
Thus, 2 steps from the ZiaZen house, go on the Levada do Castelejo trail, to discover the lush nature of the volcanic island.
Those of you who want to get some height can also try to climb Pico Ruivo. Madeira's peak reaches 1862 meters above sea level and promises a fantastic landscape to the experienced hikers who climb it.
On the east side of the island, explore also the point of São Lourenço. From this peninsula, you can admire the deep blue ocean that stands out against the dark rock. For a spectacular play of colors, why not reserve this beautiful walk for the end of the day ?
Bathing
Although Madeira does not have many natural beaches, the north coast is dotted with some pleasant swimming areas in the Atlantic Ocean. Porto da Cruz has a pebble or sandy beach depending on the tide, as well as a beautiful seawater pool.
Other places on the island await you for a refreshing dip :
The beach of Seixal, with its surprising black volcanic sand ;
The natural pools of Porto Moniz, formed by rock and lava.
Are you tempted by a relaxing and simple stay in this lodging in Madère ? Book your vacation at ZiaZen House with Cilene and Antoine today.
Find all the Ethik Hotels at Madeira
Cet Ethik Hotel ne respecte pas les critères éco-responsables mentionnés