Welcome to Mozambique, in Vilanculos, on the shores of the Indian Ocean. In this charming fishing village with a tropical climate, put your bags down at Casa Babi. With a breathtaking view of the bay and the Bazaruto archipelago, you won't want to leave! This region, known as the pearl of Mozambique, is ideal for nature lovers. With a preserved ecosystem, an amazing fauna and flora, your stay will be full of surprises. Snorkeling, stand-up paddling or kitesurfing, you'll have a front row seat to enjoy the turquoise salt water and the bright white sand. So, discover without delay your hotel in Vilanculos and plan your stay in the south of the African continent.
Why come to Casa Babi ?
A charming hotel on a human scale
Casa Babi is a small charming hotel located in the heart of the fishing village of Vilanculos. With a capacity of up to 13 travelers, the establishment remains on a human scale to offer you an impeccable service. During your stay in this hotel in Vilanculos, you will have the choice between 2 accommodations :
A room with a private balcony and a splendid view of the ocean and the islands of the Bazaruto archipelago. Decorated with care and very comfortable, you will immediately feel good. ;
A family cottage with 2 bedrooms, a living room and an equipped kitchen for 5 persons, in the middle of the green garden.
With direct access to the beach, the diving center and the kitesurfing school attached to the guesthouse, you will be ideally located to fully enjoy this rich region of Mozambique.
A warm welcome
Your hosts, Sabrina and Denis, their 5 dogs and 2 cats, will do everything possible to make you feel at home at Casa Babi. Whether you want to plan an activity, ask for a vegetarian menu or just chat, the whole team is there to make your stay unforgettable.
The impeccable welcome also includes the delight of your taste buds. With owners of Franco-Italian origin, Casa Babi's table d'host is rich in color and flavor. Almost everything is homemade, even the bread, jam and ice cream. So don't deprive yourself and enjoy the delicious French, Italian, Thai and Mozambican inspired cuisine.
What to do around this hotel in Vilanculos ?
An on-site activity center
Casa Babi is the only hotel in Vilanculos with an integrated activity center. You will have preferential rates for Odyssea Dive, a diving and snorkeling center that will take you to discover the rich marine life of the archipelago. Explore the reef of Two Miles or the surroundings of Bazaruto Island, great places for diving and snorkeling. You may have the chance to observe amazing marine animals: dugongs, dolphins, sea turtles and whales populate the archipelago.
KiteSchool Mozambique also allows you to learn or improve your kitesurfing skills, in a bay particularly adapted to its practice.
Want to try a gentler sport ? Stand-up paddle boards and kayaks are graciously lent to you by your hosts at Casa Babi, for an independent ride on the water.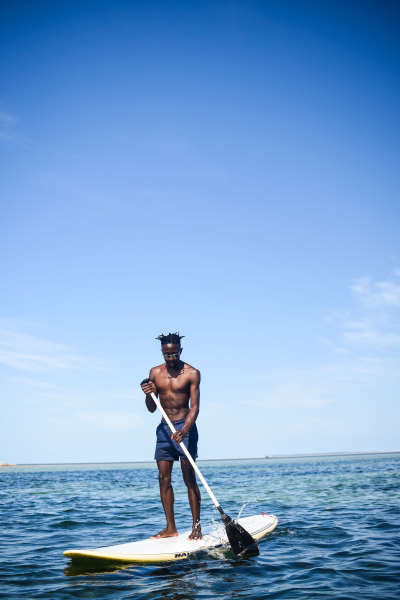 Activities without leaving Casa Babi
Are you tired of drinking the cup ? Then take a trip to the market followed by a local cooking class taught by the hotel's chef: Zita. Learn how to concoct the dish of your choice: matapa, nhangana or coconut milk curry.
Yoga classes or massage sessions are also available. Talk to the staff at the hotel in Vilanculos if you are interested.
A nice selection of excursions nearby
Want to explore a little further ? No problem! You can sail on a dhow, a traditional wooden sailboat, to the small island of Magaruque, or take to the sea in search of whales to admire. For those who prefer to stay on land, discover your surroundings on a unique and exotic horseback riding tour. Then why not stroll through the town of Vilanculos to soak up the warm Mozambican culture?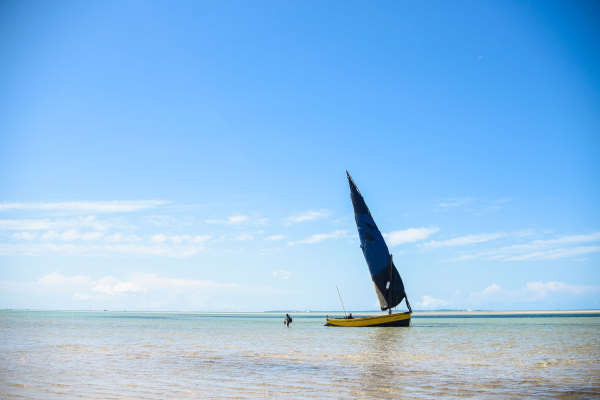 The ecological commitment at Casa Babi
With such a rich natural environment, Sabrina and Denis wish to participate in its preservation and are implementing several actions to limit the impact on the environment of their hotel in Vilanculos :
The toiletries are organic and packaged without plastic ;
The garden is maintained without pesticides ;
Your water is heated with a solar water heater ;
The sea view rooms have no air conditioning and are naturally ventilated by the sea breeze. If you get too hot, there is a silent fan above your head.
Are you tempted by the Mozambican adventure at this hotel in Vilanculos ? Book your stay with your hosts today!
Find all the Ethik Hotels at Mozambique
Cet Ethik Hotel ne respecte pas les critères éco-responsables mentionnés